KhawateenDigest March 2021 All Monthly Digests is the most popular. Monthly Khawateen digest published every month. You can read and download monthly digests. The best quality images and complete digest is available to download via download link.
KhawateenDigest March 2021
ads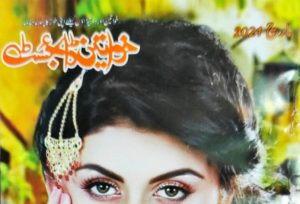 Khawateen Digest March 2021
_ Available for downloading and online reading. You can also download a copy of the PDF file into your device in a high definition file with high-quality images and low in size. if you want to get every update regularly you can like our Facebook page if you want,s to support our website which is pkjazba.com. you can share our posts. every new book will upload daily if you want,s to find our post easily you can search like as
March 2021 edition of Khawateen Digest contains the following articles/titles:
Sr. No. Title Name
1. Kehni Sunnani by Editor
2. Kiran Kiran Roshni by Idara
3. Hamarey Naam by Nadra Khatoon
4. Insha Jee Key Khatoot by Razia Fasih Ahmed
5. Meri Dairy Sey by Ummat-tus-Saboor
6. Raeed Alam Sey Baatein by Shaheen Rasheed
7. Fakhira Jabeen Sey Mulaqat by Shaheen Rasheed
8. Roshan Lamhe – Khauf Key Saye by Idara
9. Asifa Zahra Sey Mulaqat by Shaheen Rasheed
10. Zindagi Hum Tujhey Guzarein Gey by Rahat Jabeen
11. Haalim by Namra Ahmed
12. Rang Raiz Merey by Iffat Sahir
13. Raqs-e-Sharar by Faiza Samreen
14. Mein Tum Sey Na Poocho by Naeema Naz
15. Ik Jhonka Hawa Ka by Rehana Ch.
16. Mein Bhi Beti Hoo by Momina Riaz
17. Rang Tabeer by Nusrat Yousaf
18. Ranga Rang Silsila by Shaguta Jaah
19. Khabrein Wabrein by Wasifa Sohail
20. Aap ki Biaz sey by Khalida Jillani
21. Aap ka Bawarchi Khana
22. Mausam Key Pakwan by Khalida Jillani
23. Gazal by Ahmed Hammad
24. Nazam by Noon-Meem
25. Nafsiati Azdawaji Uljhanein & Beauty Box
Note:
we care about our users and visitors.
Make comments generously near the end of the post.
A meeting of scientifically designed rules or options.
The following is a summary of the best highlights.
There are no dead links: there is no dead connection, all books have live connections.
Now we made it easy to get online latest monthly Digests pdf copy that's readable on our page.
Also, downloadable files for your devices, download and
Read online a pdf copy to share with anyone anywhere. we've made it available for online readers in PDF format exclusively during a small size that everybody can grab easily. a complete novel with all pages is going to be uploaded shortly.
Support us:
Please Support us by giving feedback:
Kindly Give Comments at the end of the post.
this post Share everywhere, on any platform.
Share this post on social media such as Facebook, Twitter, etc.
Share our site with friends and family members for
better results of Urdu Novels, Digests, And Poetry.
Always Be Supportive. So, we give our best and best Soon
Ads ads